Transform Your Basement Into Something Beautiful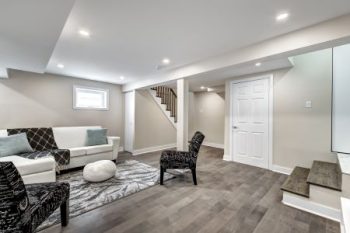 Basements don't often meet their full potential. Instead of being used as a livable spaces, they're used for storage. This wastes a valuable area of your home that can be used for a number of purposes. With the help of our professional remodeling contractors at Covas Construction, we can transform the way you view your basement. Whether you already have an idea in mind or are looking for inspiration, our team is here to help. We've transformed basements into everything from home offices and workout rooms to entertainment centers and extra bedrooms. Your basement is more than a storage area. Let us help you put it to good use.
Get started with the perfect design.
With any major remodeling project, the very first step is to plan and draft out your design. Our experienced designers will collaborate with you every step of the way to ensure that your basement remodel is just as you envisioned. Every detail, from the layout of new door frames and windows to the plumbing and electrical work, is taken into consideration for a final look that meets your goals and is compliant with local building codes. Let us be your guide in this exciting journey as we bring your dreams for your home renovation to life!
Discover The Benefits Of A Basement Remodel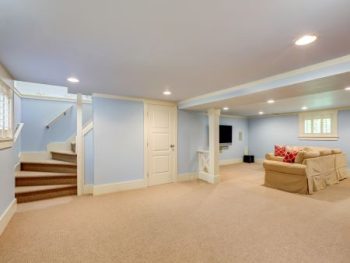 Many homeowners may not realize it, but remodeling their basements can save them money over the long run. Consider these benefits of a basement remodel.
Reduce heating and cooling costs: Many basements are poorly insulated. This allows cold air to come in during the winter. We'll correctly insulate your basement so that it maintains a consistent temperature with the rest of your house, reducing the energy load on your HVAC system.
Increase your home value: Many professional renovations increase the overall value of your home, but a basement renovation adds something extra. Since the room is out of the way, it isn't forced to function as any one thing. This means when you re-sell it, you can pitch it to a prospective buyer as multi-purpose.
Avoid home additions: When you need extra space, bump-outs might be enticing but come with a price tag to match. Basement renovations are one of the most affordable ways to get the extra livable square footage you want without having to add to the existing structure.
Start Planning Your Basement Remodel Today!
If you're looking to increase your usable space without sacrificing precious square footage, basement remodeling is the ideal solution. Since 1988, our team of skilled professionals has guaranteed meticulous attention to detail in every step of our remodeling process. We have the knowledge and creativity needed to turn your basement into an area that harmoniously complements the rest of your home's aesthetic. Call Covas Construction today to get started!