Create The Bathroom Of Your Dreams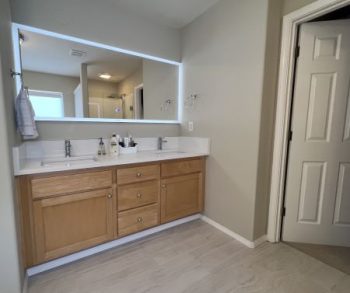 Bathrooms are one of the most popular spaces that homeowners choose to remodel as most homes are not built and designed with our unique necessities in mind.
Whether you're dreaming of extra storage and more functionality for a growing family or a deep soaking tub and steam shower to create the epitome of luxury and relaxation, our team at Covas Construction is here to make it a reality.
From the initial consultation to the big reveal, you can expect the most professional customer service and the highest quality results.
---
Some Popular Bathroom Remodel Services Include:
New Floor Plan
Custom Showers
Bathtubs
Vanities
Countertops
Tile
Trim
Woodwork
Plumbing
Fixture Replacement
Lighting
Electrical
Heated Floors
Waterproofing
---
Benefits Of A Professional Bathroom Remodel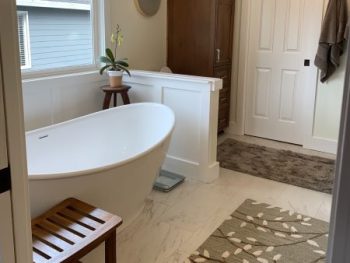 There are many benefits to a bathroom remodel that you may not have even thought of. Consider the following perks and advantages:
Energy-Efficiency
With technology constantly making advancements towards being more energy efficient, remodeling your bathroom could save you money down the road. From energy-saving lightbulbs to environmentally-friendly toilets and faucets, you can feel even better about getting the bathroom of your dreams.
Functionality
Whether your home's bathroom was originally designed with a subpar layout or your lifestyle has changed and you need to adapt your bathroom to fit your needs, a remodel is the perfect way to go. Expand the square footage to make room for a large bathtub, or change the layout to incorporate a double sink vanity for more storage. The possibilities are endless!
Value
If you need yet another reason to remodel your bathroom, consider the value you would be adding to your property. Bathroom remodels have a remarkably high ROI, so should you decide to sell your home in the near future, it'll be more attractive to potential buyers. Regardless if you're planning to sell or not, there's nothing wrong with adding some extra value to your home.
Call Covas Construction To Start Your Bathroom Remodel Today!
If you're looking to give your home a new lease on life, a bathroom remodel is the perfect way to add lasting luxury and style. Here at Covas Construction, we offer our expertise and knowledge in home additions and remodels so that you can create the elegant bathroom of your dreams. Utilizing only top-of-the-line materials, we strive to make sure that all of our clients are completely satisfied with their results. Give us a call today to get started and turn your dream into a reality!