If You Can Dream It, Our Home Additions Contractors Can Build It
Finding more living space can be a challenge in today's market. Whether you need additional rooms for an expanding family, a dedicated workspace, or simply to enjoy more luxurious use of your home, adding an extra room might be the solution. The experienced professionals at Covas Construction stand ready to assist with your home addition project. In order to maximize your satisfaction and ensure the highest quality outcome possible, we'll take time to understand your preferences and goals before beginning the build-out process. With our help, you can have that extra space–in the same neighborhood, school district, and style–without having to move. Contact us today and get started on the project that will fulfill all your space needs!
---
Home Addition Ideas
Sunroom
Second Story
Basement
Master Suite
Additional Bathroom
Garage
---
There Are Many Benefits To A Home Addition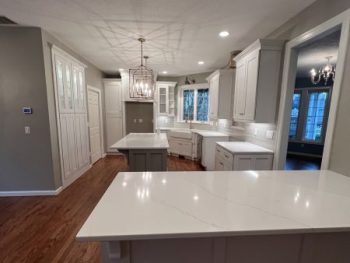 Whether you plan to expand out or up, there are endless possibilities and benefits to discover.
Customization
Designing a home addition allows you to completely personalize the space to fit your needs and goals. Whether you want to create a sunroom to relax in or build an in-home gym, a home addition gives you the freedom to explore all the different possibilities.
Increased Space
A growing family, a change in lifestyle, or even a new hobby can all lead to the need for more space. Our team can develop creative ideas to add additional square footage where you need it most. From a small bump-out to a full second story, we'll help your vision become a reality.
Additional Value
Regardless if you plan to sell your home or not, there is nothing wrong with adding a little extra value to your property. Home additions like finished basements and mother-in-law suits are a great way to increase your value and add equity which can be advantageous in the future.
Design The New Addition You've Been Waiting For
Home additions can be a great way to truly elevate your living experience and indulge in the luxuries of life. By expanding upon the existing floor plan, home addition projects give you the opportunity to craft custom spaces tailored to suit your desired needs. Whether it's an extra bedroom, mudroom, or home office – having more breathing room while still getting to stay in the same place is nothing short of valuable. Our team of experienced contractors and designers has been helping homeowners create beautiful and luxurious living spaces since 1988. Call Covas Construction today to get started on your creating your dream home.