Redesign Your Home With A Beautiful Kitchen Remodel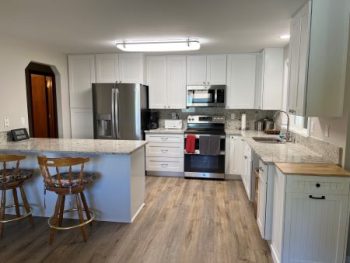 For many of us, the kitchen is the center of everyday life. Whether you're preparing meals for your family or fostering more intimate conversations over a cup of coffee, your kitchen is a multi-functional space that can often be blighted by outdated designs and subpar layouts. That's why our team at Covas Construction is here to bring your dream kitchen to life—our dedicated remodeling specialists have been bringing innovative visions to fruition since 1988. Get a beautiful remodel that ensures your kitchen isn't simply a place where chores are done but instead enjoyed and utilized to the fullest. With Covas Construction at your side, your vision is only limited by the bounds of your creativity.
---
Some Of Our Kitchen Remodeling Services Include:
Crown molding
Custom cabinets
Flooring (hardwood, laminate)
Custom counter-tops (slab, granite, laminate, quartz)
Under-cabinet lighting
Appliance updates
Cabinet refacing
Cabinet refinishing
---
Experience The Benefits Of A Kitchen Remodel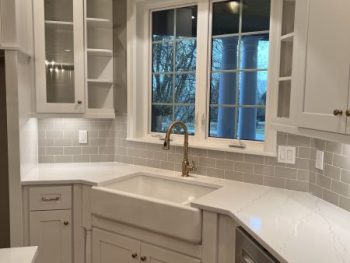 There are fantastic reasons to remodel your kitchen. Consider the following:
Kitchens offer one of the largest ROIs: The return on investment from a kitchen remodel is extensive. We can help you choose options that will have lasting appeal for future buyers or customize it specifically to your needs. Either way, you'll enjoy a permanent increase in the value of your home.
Improve electrical efficiency: Now is the best time to upgrade your appliances. Newer models are more energy-efficient and water-efficient. If we replace any windows, we can also use models with greater insulation for increased savings on heating and cooling costs.
Get exactly what you want: Certain kitchen features have always been on your list, but you've never been able to get them. Now is the perfect time for an island, a gas range, adjustable lighting, a re-design of your pantry space, and anything else that will make your kitchen just right.
Contact Us to Begin Your Kitchen Remodel
Transform your kitchen from laborious to elegant with an expertly crafted remodel by Covas Construction. Our design team is renowned for its attention to detail, utilizing the latest trends and technology to create a modern kitchen that reflects your unique and specific taste. We understand that an inviting kitchen can provide a haven from the stresses of everyday life, giving families the opportunity to come together and enjoy quality time in comfort and style. Allow us to help you realize your vision of restored luxury — we guarantee you won't be disappointed.